I've just learned that Mohammed, the uninvited passenger sitting in the back seat of my rented car, doesn't have travel papers. This is an issue because we're waiting at the Ivory Coast border on our way south, out of Mali. Mohammed is the brother of Abdoulaye Diakité (pronounced Ja-kee-té), owner and driver of the four-cylinder Chinese made sedan we are riding in, me in front. Abdoulaye is also the man I hired to help me explore the northern borderlands of Ivory Coast in the wake of last spring's civil war. I've been in Mali a month and Abdoulaye is the best driver I've found—fearless and honest, a French speaker with a good car. But in the preceding days, as we organized this trip, he didn't tell me his brother would be riding with us.
I expect complexities at international borders, especially in Africa. When I applied for a visa at the Ivorian embassy in Bamako, the consul required my itinerary, typed in French and double-spaced, as well as addresses of the hotels I would stay at with confirmed reservations, four passport-sized photographs, a World Health Organization vaccination card (showing shots for yellow fever, hepatitis, rabies, measles, and meningitis), and the equivalent of $120 in cash for the visa. So I'm surprised by Mohammed's—I'm not sure what to call it—forgetfulness?
The policeman in a black "Police Nationale" uniform, having handed back my passport, is bending down at the backseat window, directly behind me, hands on his knees, talking to Mohammed in a mix of Bambara and French, the first of which I understand poorly and the second fluently. Mohammed is a Peul herdsman and speaks Fulfulde, his first language, and Bambara, his second, but little French. I pick up enough to know the situation is worse than I thought. This is not a matter of an expired identity card or
visa, which can often be negotiated. Apparently, Mohammed carries no papers at all. This makes me tense, worried that the policeman might blame me, the man who hired the taxi, for this oversight. I put my passport in the bag at my feet and take a deep breath. Ivory Coast's new government only weeks ago restored professional police and customs services along its northern frontier. This checkpoint is simple: a concrete block building, the orange, white and green Ivorian tricolor flying from a metal pole, two red and white striped barrels in the middle of the road, and this one policeman, a tall, bone thin middle-aged man with a kindly smile and graying hair.
He moves back to my window and nods politely. In French he asks Abdoulaye for his identity card and car registration, not a hint of suspicion in his voice. Abdoulaye reaches into the glove compartment and hands over the registration and card with 1,000 West African francs (about $2.50). The badly worn bill sticks out from the papers. Abdoulaye's identity card, which I've seen, confirms he is a citizen of Mali, born in the town of Bougouni, and that he is of Peul ethnicity, a group whose livelihood is traditionally rooted in herding livestock. The card includes his parents' names, and Abdoulaye's profession: taxi driver. After a short conversation, with Abdoulaye and the policeman gesturing and smiling at Mohammed, the policeman hands back the documents. He nods with three fingers at his temple.
"Drive safely," the policeman says, "and go with God."
A few miles down the road I ask Abdoulaye in French: "So, your brother has no papers," I hope Mohammed does not understand my question.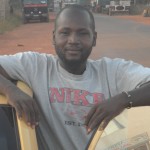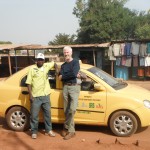 "No," Abdoulaye says. "This is all the same country here. Ivory Coast, Mali, Burkina Faso, and Guinea." He waves a hand left to right across the windshield. "We all understand each other here. I can vouch for my brother." Then he says, "Il faut te calmer. You need to relax."