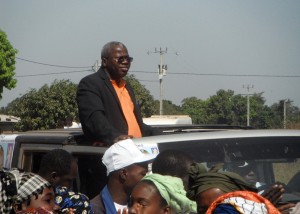 Man of the People?
Late the morning of Dec. 3, I'm in a Toyota Land Cruiser in a convoy, fourteen vehicles racing through thick red dust across back roads of the "new" Ivory Coast—the freshly reunited Ivory Coast, six months after the end of last spring's brief civil war—on the campaign trail with Mamadou Sanogo, mayor of a tiny town on the border with Mali. Sanogo is a "businessman," a gasoline smuggler, a gold miner, a construction contractor in roads and buildings, a trucking baron, probably an arms dealer, and most definitely a war profiteer. The "chef des rebels" locals call him on both sides of the border. The mayor's biggest client, or business partner, depending on the point of view, was the New Forces rebel movement, part of the alliance of rebel militias that have formed the new government. Now Sanogo wants to add "depute" to his resume, running for a seat in the new National Assembly on the coat tails of Alassane Ouattara, President de la Republique, the man Sanogo's rebel friends—and indirectly the mayor himself—boosted to power in April.
And Sanogo is running fast. The campaign officially started at midnight and he has seven days to visit as as many villages as he can before voting begins. The convoy, with the candidate in a brand new gold Hummer behind the car I am in, charges down this bumpy road, about thirty miles south of the Mali border, through its own storm of red dust, rich with iron like so much West African ground. We've only been to one village this morning and already the campaign has lost two vehicles. The first I saw minutes ago through the haze, a small green Renault, full of young men, campaign volunteers, just after it slammed into a tree stump with its front end scrunched up at an odd angle. As we blew past, the driver was stumbling out from behind the wheel with blood all over his arms and head. I turned my head to look back, eyes wide and my mouth open, pointing. "They're jerks," shouted Mohammed Cisse, Sanogo's campaign manager in the front seat, waving them off. "I told those guys to stay to the rear and not to drive so fast." Our driver slowed but Mohammed barked at him. "No! We have work to do." Minutes later we passed the campaign panel truck, listing to the right—a broken axel, a flat tire?—with Sanogo's face and slogan "Union, Solidarite, Developpment" emblazoned on the sides. Mohammed shrugged and we kept going.
Now, the convoy slows as we near the village of Nian Bbarrasso. The dust thins and I see people spilling into the road. Behind them rise the sloping thatch roofs atop their mud homes. There are young men and women and children, some wearing white Sanogo T-shirts bearing his picture in a suit jacket and tie. Men bang drums and chant in Senefou, the language of the dominant ethnic group along the border. We pull off the road and the gold Hummer rolls past at a crawl as the crowd breaks around the vehicle. Sanogo stands through the sunroof. He is a big man, not muscular or tall, just big, round faced without much of a neck. He wears gold rimmed glasses and a navy blue blazer over a campaign T-shirt, jeans, and a pair of leather loafers, which I spotted earlier in the morning, country club attire for a visit to a remote African farming village. Sanogo grew up among these villages, but he looks a little uneasy, smiled pinned to his face, waving weakly with one hand. Following Mohammed, campaign posters rolled in his hand, I walk through the crowd and across the road into the village. In front of us, beneath a huge old baobab, the village "palaver tree," a dozen middle aged and older men in long tunics and skull caps sit on mats, waiting. A smaller group of older women in colorful cotton shawls and pagnes sit on mats just behind them. In the middle of their circle is an empty stuffed chair.
Cisse looks at me, rubbing his chin. "These people